Developing a digital marketing and social media marketing plan that delivers measurable results requires more than a few pretty visuals or snazzy bite size videos you post on LinkedIn, Facebook and Instagram.
Creating even the most stunning, funny or high quality content is not going to drive measurable and profitable results if you don8217;t have the right foundations in place.
Stop Wasting Time and Money on Digital Marketing Strategies that Don8217;t Work! 
Too many marketers today are wasting loads of time and money trying to be everything to everyone instead of taking the time to slow down to speed up.
When is the last time you thought about WHY you are investing in social media? Why are you and your team executing your digital marketing plans? Who is it benefiting? Are you really getting the return on investment from your efforts that you know you deserve and expect?
Or are your results much less than you know they could be?
There are many reasons that you could be struggling to achieve your goals and truly impact your business with digital marketing, content strategies and social media. It could be you don8217;t know where to start and are overwhelmed.  Or it could be you are simply focusing on the wrong things.
The purpose of this post and my latest podcast episode today is to help you focus on the RIGHT things!
Focus really is key to success. Less is more. Quality over quantity is how you will see both short term and lasting impact.
Hope is NOT a Strategy 8211; Align Social and Digital Marketing to Your Business Goals! 
Developing a profitable digital and social marketing strategy requires you to align digital and social media to your business goals. You need to pick goals and objectives where your digital and social media tactics can have measurable impact. Simply throwing content up on every social network hoping someone finds it, clicks on it, likes it and maybe buys from you is not a strategy.
Are you tired of being sick and tired of not achieving a positive ROI from your time and money invested into social media?
You have no idea if you are creating content that will actually attract or engage your ideal target customer, ever.
You keep missing opportunities that could help your business grow as you are stuck in a rut and embarrassed of your social profiles.
You have become the master of random acts of marketing (RAMs) 8211; random acts of live video, stories, quotes, tweets and visuals.
You are doing everything the 8220;experts8221; tell you to do, but there seems to be some big missing pieces they are NOT telling you.
You are still searching for the magic button to fix all your social media, digital marketing and branding woes.
If these challenges are what you are facing8230; you landed on the right blog post today.
Take a listen to episode #288 of the Social Zoom Factor podcast to hear 7 Steps to Develop a Profitable Social Media and Digital Marketing Strategy and Plan.
It8217;s not 8220;what can technology and the social networks do for you today,8221; but instead, what can you do with the technology available.
The truth is Facebook, LinkedIn, Twitter and Instagram owes you nothing. It is your responsibility and problem if you have put all your social business eggs into a social network basket (such as Facebook) that you do not own. Don8217;t blame Mark Zuckerberg.
It8217;s time to get your game face on. It8217;s time to to embrace imperfect perfection. It8217;s time to build and execute a social media plan that once and for all will help you achieve your business and life goals.
If you are ready to get to work and do what has to be done to succeed in the online world today, you must learn these 7 foundational steps.
What you8217;ll learn8230; 
Take a listen to to the 7 Steps to Develop a Profitable Social Media and Digital Marketing Strategy and Plan
Supporting Resources 
How to Subscribe to Social Zoom Factor Podcast 
Need more help? Marketing Nutz Training and Consulting Can Help! 
Need help launching a new product or service? Time for a re-brand or simple refresh for your business or personal brand? Want to leverage the latest trends for digital marketing and social media marketing for your brand? Or do you need help better understanding your audience such as doing a customer focus group? Our agency, Marketing Nutz can help you develop your strategy inclusive of setting goals, a brand architecture and brand storytelling and choosing the right tactics that will help you achieve your goals! Give us a shout and let8217;s get to work!
Social Profit Factor Training System + Member Community can help you ignite your online social brand, tribe and business results! Before you even think about using social media for business you need to develop your social branding strategy and plan!  Social Profit Factor will help you develop your plan with goals, objectives and priorities within 30-60 days!
Take Action:  Download my Buyer Persona Template Pack (editable templates for B2B and B2C)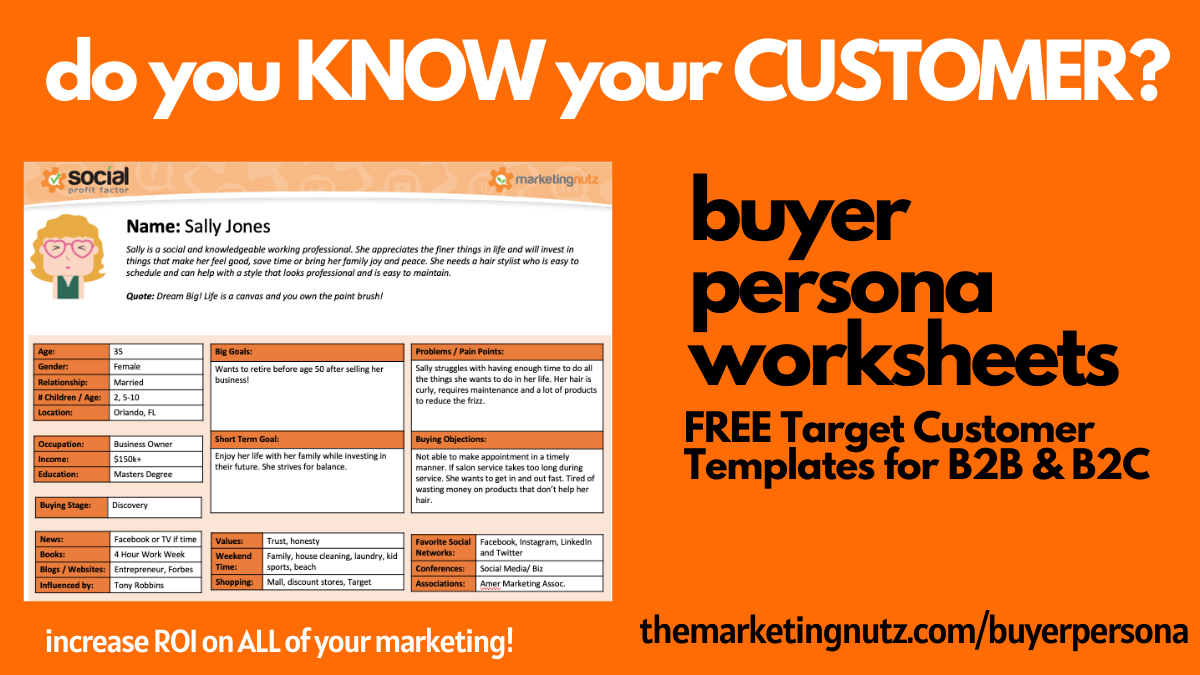 The post 7 Steps to Develop a Profitable Social Media & Digital Marketing Plan in 2021 [podcast] first appeared on Marketing Nutz Digital Social Media Training Consulting Agency.


160
;

160
;

160
;

160
;

160
;

160
;

160
;

160
;

Related Stories
Original source: https://feeds.feedblitz.com/~/641093888/0/marketingnutz/